Google+ Tactics: 3 Ways To Maximize Your Reach
If you, like many other marketers, think of Google+ as just another social media network in the Facebook and LinkedIn model, you probably believe that it lacks powerful social interaction you'd expect.
Yet at the heart of the question is the fact that Google+ isn't about social media.
As a marketer, Google+ is worthy of your time. At a minimum it should be part of a multi-platform social media strategy.
It's real power comes from its ability to integrate and transform the diverse Google elements into a social platform. Google+ is Google's connective tissue that transforms your content and communications into a social media driver.
Google+ isn't dead. According to Shareaholic, the social platform increased its share of traffic modestly, especially when compared to Facebook and Pinterest, over the past year.
For a better understanding of Google+, look at these 5 datapoints collected by We Are Social.
32% Google+ registrants actively use the social network monthly.
Unlike many social media platforms, Google+ is 62% male and 38% female. Since women tend to be more active on social media, this data point reveals that Google+ has room to grow and evolve.
25 to 34 year olds are the most active Google+ demographic, showing that this platform reaches a more social media savvy audience.
68% of users upload images weekly. Specifically, they upload 1.5+ billion images and gifs.
42% interact with brands on the platform. 70% of top 100 Interbrands use Google+.
Google+ Tactics: 3 Ways To Maximize Your Reach
Here are 3 Google+ tactics to leverage the platform as a content and communications tool.
1. Google+ Tactic: Literally give your business a human face.
It's a claim other social media networks can't make.
Google Hangouts provide for video conferencing with up to 10 people to make connections. Hangouts make business social and experiential in a very personal way.
Social media maven B.L. Ochman raves, "Hangouts are arguably the best video conferencing platform ever created, and they're free!"
Take heed, Ochman warns, "There's a learning curve, and it's rather steep, but it'll be worth the time you spend to learn the platform." (For more insights, check out Ochman's post on the top 10 reasons you can (should) use Hangouts in your digital strategy).
Peg Fitzpatrick echoes this sentiment, "Google+ Hangouts are gold – connect with people in a way that you can't do on any other social media platform."
But that's not all.
Like the Swiss Army knife of social media, you can transform your Hangout On Air into a YouTube video, thereby converting a conversation into actionable, shareable content that can reach a much wider audience.
With this approach, your Google+ hangout content hits the Marcus Sheridan bullseye "they ask you answer".
Further, by using Hangouts On Air you can empower your employees who don't have the time to create content and/or don't trust their writing skills to transform their ideas into quality content.
This is fulfills a related Marcus Sheridan corollary: "Empower your team to create content that communicates with your prospects in the way that's easiest for them."
Translation: If your employees can't write content, then let them just talk into a camera and edit it.
Understand the biggest hurdle is getting the first version down. It's a great alternative for employees who are used to formal writing or don't have the time such as research scientists and doctors.
By doing a hangout, they've described the information and you've got a human face and an answer to associate with it. Then edit the content, add your branding and optimize it for search.
By building a YouTube library of customer questions and answer is that it supports search since YouTube is the second biggest search engine.
2. Google+ Tactic: Build targeted communities.
Be deliberate in how you select people and grow your targeted communities. You want to be able to follow people of interest to you and your business, not be drowned out by the noise.
Take a tip from Peg Fitzptrick, "Feed your passions in communities with people who love what you do. This is where you can find your friends and build your social connections."
Find and grow the targeted communities that celebrate your interests. The objective is to create real relationships to target the people with whom you share content. To this end, understand your key market segments and create marketing personae and social media personae.
Done well, these communities enable you to follow the important people in your niche as well as creating colleagues who are interested in your content and are willing to share it.
Think of this as curating your audience.
You'll want to turn your notifications on so that you're notified when specific people post on Google+. This allows you to respond and build up credibility and visibility. Of course, it's also useful to make intelligent remarks.
Smaller groups should create greater engagement and interaction because it's easier to see the information and communicate without getting overwhelmed with information.
3. Google+ Tactic: Become a content curator par excellence.
Google+ is a great platform to position yourself as a thought leader.
To this end, it's important to create an awesome Google+ presence that distributes information your key audiences want and need. This means don't just fill your stream with whatever's in your inbox.
Develop a Google+ strategy for the type of content you want to be known for. Be consistent so that your audience expects and wants to see your content. Use hashtags appropriately to attract a bigger audience.
Utilize the power of Google+ to transform other people's content and to make your presence stand out. This means creating another headline and an amazing graphic. Peg Fitzpatrick sets a great example. Make sure that you add useful commentary and don't forget to use Google+'s ability to format it.
Like other social media platforms, Google+ requires that you put the time in to socialize and provide useful information for your target communities.
How have you used Google+ to build your business.
Happy Marketing,
Heidi Cohen
Related article:
How To Improve Your Content Based On 2.6 Billion Social Media Shares
---
---
Even though Content Marketing World is finished until next September, you can still get all the content from 2014's exciting conference. The CMWorld On Demand package includes: Audio and video from the 2014 keynote sessions, audio and PowerPoint presentations of all the breakout sessions, over 40 audio sessions from the leading B2B and B2C brands, as well as keynote video performances.
---
Free Webinar!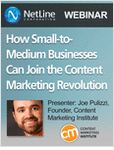 Join the discussion on Tuesday, November 11 - Time: 11 AM (PST) / 2 PM (EST) - Speaker: Matt Abrahams, Educator and Coach, Stanford Graduate School of Business
Learn how small and medium sized businesses don't have to have an entire content marketing organization (or budget) to be successful in content marketing.
Joe Pulizzi, Author and Founder of Content Marketing Institute and Werner Mansfeld, President of NetLine Corp, discuss realistic and actionable methods for your company to get awareness, consideration and sales leads using marketing content – without the budget or resources of an enterprise-level organization.
Date: December 2nd, 2:00 pm EST/12:00pm CST/11:00 am PST
Here are just some of the questions you'll get answered:
What is content marketing and why is it important?
What do I need to have in place to compete effectively using content marketing?
How do I drive sales leads and get a positive ROI using content marketing?
How can my small business (or budget) compete with my larger competitors using content marketing?
What can I start doing today to start seeing results?
Joe Pulizzi and Werner Mansfeld are experts in Content Marketing and Content Syndication. Learn from their combined experience how to take advantage of content marketing for your business, no matter the size.
---
Photo Credit: https://www.flickr.com/photos/barkbud/4580368702
The post What Most Smart Marketers Miss About Google+ appeared first on Heidi Cohen.