39 LinkedIn Business Tactics To Achieve Your Goals
If you're like many marketers, you may think of LinkedIn as a job seeker's ghetto. But LinkedIn has evolved.
Before we dive into LinkedIn business tactics, understand that LinkedIn is a powerful professional social media tool. LinkedIn tops the social media list for small businesses according to the UMass Dartmouth.
Still not convinced about the power of LinkedIn to build your business?
Check out this LinkedIn data:
1 in 3 professionals globally is on LinkedIn. 43% of them use mobile. 
LinkedIn keeps business hours. The best time to post is Tuesday and Thursday between 7:00am and 9:00am local time. This makes sense since it's not mixed with the Monday information deluge and the Friday rush to get done.
20 posts per month will reach 60% of your unique LinkedIn audience according to Buffer.
64% of all visits from social media channels to corporate websites come from LinkedIn according to eConsultancy research. 17% of these visits came from Facebook and 14% came from Twitter. 
38 LinkedIn tactics to achieve your business objectives
Regardless of whether you have a B2B, B2C, not-for-profit or your own business (aka: being a solopreneur), LinkedIn is an engine for achieving the following goals:
Build brand and product awareness.
Provide prospects information during the purchase process.
Generate leads and sales.
Extend your professional social media community.
Support brand advocacy
Here's how your firm can tap into these 39 LinkedIn business tactics.
1.

Craft effective LinkedIn profiles

LinkedIn profiles are the heart of this social media platform. As with any social media network, participants are your key to success. For your business, LinkedIn's power lies in your employees.

Therefore, make your employees look their best to ensure your firm looks its best on LinkedIn and other venues including Google+ and your website. Leverage the power of your employees to attract future staff and business contacts instead of thinking "Why should I help my employees polish their LinkedIn résumés?"

Companies like IBM, McKinsey and other major consulting firms have understood the power of their corporate alumni as a source of future clients and revenue. When I was at Citibank, many staff returned after a stint at another bank. Why pay for these hires?

Actionable LinkedIn business tactics
Draft a set of social media guidelines. Ensure your staff knows what they can and can't do when representing your firm on LinkedIn and other social media platforms. It's helpful to get Legal involved in this area.
Ask employees to represent your firm on LinkedIn. You can't take a Big Brother attitude on social media. Give your staff a choice and show them what's in it for them (aka WIIFM).You may want to ask Human Resources for their input on these requests.
Provide LinkedIn training for your employees. Don't just relegate social media interactions to your social media manager or team. Get everyone into the action. BUT provide them with help and support.
Optimize employees' LinkedIn profiles. Use verbs and keywords, not adjectives and buzzwords. Include volunteer experience on LinkedIn. 42% of hiring managers value this experience.
Ask employees to include links to your website and blog in their profiles. The objective is to get people to seek your firm out. Choose a page that's tailored and provides value to your audience. This may not be your homepage.
Create more universal job titles. While you may have internal job names and descriptions, streamline them to make them understandable to the broader public to attract potential customers and business relationships.
Take professional photographs of your employees. Host a photo day to get everyone's photo. Use this opportunity to get other behind the scenes images you can use on social media. Include a professional photograph in your LinkedIn profile to increase your profile view rate 14 fold. Add videos to personal profiles.
Create a set of videos for everyone in your company. This is great for both you and your employees. Make sure they're branded.
Promote LinkedIn profiles in your owned content. Add your LinkedIn profile to your email signature file.
Endorse people you respect. Use keywords that support your business objectives. Write personal notes to people who endorse you and to make connections.
Connect with people through their LinkedIn profile. This allows you to personalize your message.
Leverage common connections to meet other people. BUT don't assume that a LinkedIn connection is as deep or as willing to help as a colleague or friend.
Remember your manners. Send follow up notes and thank you emails when people connect with or help you.
2.

Build your company presence with corporate pages

Use LinkedIn to tell your company story. Don't just publish more facts that have been recycled from other content. Consider the story you want to present on LinkedIn.

Here's what information LinkedIn's top content consumers seek.
Actionable LinkedIn business tactics
Incorporate your company branding on your LinkedIn company page. This includes photographs and content.
Promote your LinkedIn company page on your owned media. This includes your website and blog to build your community.
Get employees to link to your company page in their signature files. Of course, they should also include links to their own pages.
Use photographs and other images in your company updates. Think media This should be a no-brainer since they attract attention.This increases your comment rate by 98%.
Be professional in the content you share.
Create showcase pages to spotlight brands, products and/or other areas (such as customer service or a geographic area) of your company. LinkedIn recommends using a maximum of 10 showcase pages.
Post at least once per business day.
3.

Build your LinkedIn groups

LinkedIn groups require building a community and on-going participation. Understand that this interaction doesn't have to be a marketing or PR function; it could be a subject matter expert.

Actionable LinkedIn business tactics
Create a LinkedIn group for thought leadership on your niche. You have to build your audience as well as continually participate. The power of a group is that it's larger than your company.
Promote your LinkedIn Group on your owned platforms. Let your visitors and customers know that you're available to interact with them on these venues.
Start an alumni group to maintain connections with former employees. Don't leave this to chance. Have a plan to cultivate these relationships over time.
Actively manage your LinkedIn Groups. Otherwise, there's a lot of noise and members don't pay attention to the stream. Where necessary, eliminate self promotion.
Send a regular communication of the conversations. This is important to keep busy people as part of your group.
Cover the breadth of LinkedIn groups in your category. Where appropriate ask an employee to be the point person who engages regularly.
Position your firm as a thought leader by sharing relevant content on a regular basis. LinkedIn Groups aren't just logos for your LinkedIn profile.  At a minimum, engage in group activity at least once per week.
4.

Publish on LinkedIn

LinkedIn has transformed itself into a publisher.  For complete details and data, see: how to dominate LinkedIn Publishing.

Two of the salient LinkedIn Publishing data points are:
Over 1.5 million publishers have a share button on their sites for sharing content on LinkedIn. 
Actionable LinkedIn business tactics
Schedule LinkedIn content in your editorial calendar. Don't leave articles for LinkedIn to chance. Focus your content on the people you want to reach.
Craft 1,900 to 2,000 words maximize views, comments and shares. Longer is better on this social media platform.
Write articles for LinkedIn's Top 10 topics. Specifically cover the following: leadership, innovation, technology, entrepreneurship, marketing, professional women, social media, economy, advice and education.
Include photographs to increase visibility. But skip other media formats – they don't help views or shares.
Optimize your LinkedIn content. Add bolding and outlining to increase readability.
5.

Develop your LinkedIn strategy.

You need a plan that's integrated into your overall business and marketing plans to ensure that your content, communications and relationships continue to expand and grow.

Actionable LinkedIn business tactics
Monitor what your employees are saying and where they appear on Google+. While this suggestion is motherhood and apple pie for most marketers, it bears repeating.
Create a LinkedIn channel strategy. Include a combination of publishing, curating and engaging on LinkedIn.
Include Slideshare as an extension of your LinkedIn strategy. Incorporate presentations given by your executives or created to help your target audience on a regular basis.
Check-in daily. Viveka Von Rosen recommends making a date with LinkedIn. In her view, frequency and staying up-to-date are better than an extended session. It can be as little as 15 minutes to see what people are up to and to send out notes.
Employees are 70% more likely to engage with your company updates. This makes sense since they know your firm. Send your employees a notice regarding your LinkedIn shares and posting. Ask for their support and make it easy for them to participate.
Broaden your content distribution with the use of @ mentions and photographs.
Include a call-to-action in your LinkedIn shares. Think about your target audience on LinkedIn and the next step you'd like them to take.
3 LinkedIn rockstars to follow
To keep your LinkedIn social media on track to succeed, follow these 3 LinkedIn rockstars:
"Your audience should always be at center of your content, not you," says LinkedIn's Jason Miller. 
 "Employees are the long tail of your brand identity," according to LinkedIn expert Neal Schaeffer.
"My top LinkedIn tip is to make use of LinkedIn's new visual "aids," says LinkedIn expert von Rosen. 
Specifically, visuals increase engagement on LinkedIn by up to 20% (or more!) as well as lending to your credibility and just making you and your profile look better. (For more details, check out von Rosen's step by step explanation on Social Media Examiner.)
The LinkedIn bottom line:
Optimize your employees' LinkedIn efforts so that your firm's internal traffic drives more profit-oriented activity than your social media team.
This isn't to detract from your social media team. LinkedIn success is a matter of numbers. More proactive people yield more interactions!
What has your LinkedIn social media marketing experience been? What has succeed for your marketing on LinkedIn and why?
Happy Marketing,
Heidi Cohen
PS: Want to boost your LinkedIn prowess? Join the #LinkedInChat every Tuesday at 8 PM EST
Related article: Social Media Platforms 2014 and Beyond
---
---
For those of you in Raleigh, NC, please join me for Internet Summit November 11th through 13th.
Use the code HEIDI50 to save $50 OFF any pass level.
---
Even though Content Marketing World is finished until next September, you can still get all the content from 2014's exciting conference. The CMWorld On Demand package includes: Audio and video from the 2014 keynote sessions, audio and PowerPoint presentations of all the breakout sessions, over 40 audio sessions from the leading B2B and B2C brands, as well as keynote video performances.
---
Free Webcast!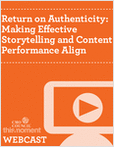 Join the discussion on Wednesday, October 29, 2014 at 10:00 AM PT/ 1:00 PM ET with Nancy Slavin, SVP of Marketing, Macy's Merchandising Group, and Dan Kimball, CMO, Thismoment.
According to research by Nielsen, 70 percent of global consumers trust online consumer reviews and rate reviews as the second most trusted form of advertising. And according to BazaarVoice, when it comes to trust, marketers may as well eliminate their own brand websites as a fountain of customer trust as only 16 percent of US consumers said they trust the content on a brand's website compared to the 51 percent who trust content generated by other users.
Today's digital currency is arguably authenticity, and what attracts customers - especially the digitally dependent, savvy millennial - is not just content. It is the delivery of authentic, unvarnished content from their peers.
Join the CMO Council on Wednesday, October 29, at 10am PST/ 1pm EST for a one-hour webcast that will invite industry experts in content marketing and user-generated content who are effectively leveraging authentic storytelling as part of their content marketing strategies. We will also feature an interactive Q&A session at the conclusion of the speaker presentations.
---
Photo Credit: https://www.flickr.com/photos/4everyoung/256180335
The post Is Your Business Tapping Into The Full Power Of LinkedIn? appeared first on Heidi Cohen.